SO MUCH TO DO. LEAVING TOMORROW. COSTUME UNFINISHED. PACKAGES NOT ARRIVED. MOST. STRESSFUL. PRE-D*C EVER!
Current Mood:

AGHH



Art Baker - DONE
Night Sister - 70% complete I still need to finish the other bird wing and find some earrings (or make some!) and figure out how to attach said wings.
FEMMELuke - 95% complete (HEATHER DO YOU HAVE A SINGLE BLACK GLOVE?)
Splicer - 80% complete I still need to figure out my hair. I want to avoid a wig with this at all possible. Anyone have any ideas? And shoes.
Clover - 50% complete (EFF YOU BOW TIE AND WHERE THE EFF ARE YOU WIIIIG)
Pam - 95% complete (I JUST NEED MOAR JEWELRY)




Also I have to keep John pn track this year, but LOLOLOL MAN!OOLA





I WILL BE LEAVING IN ONE WEEK AND THERE IS STILL SO MUCH TO DO:











WHY MUST I WAIT UNTIL MARCH</lj-embed>
Current Mood:

tired

Current Mood:

bouncy


The highlights of 2010:

I was hired on full time at the theatre....officially.
I reconnected, got back together with and broke up with the "one that got away."
I realized him being the "one that got away" was a good thing.
I found a great group of friends....most of them about as geeky as I am (almost).
My life somehow became the plot line of Cheers except instead we call it Hopkins. No really. I walk in and the guy sets a Redstripe in front of me and says "And your buffalo dip is on the way."
I managed to figure out, to some extent, future related things such as what I want to be when I "grow up." Special FX makeup artist it is!


And for the most part I would say 2010 was a pretty good year. I learned a lot, lost a lot, but gained a lot too. And if I could go back and do things again I would change next to nothing. Everything that happened to me this year needed to happen. It pushed me in a new direction...a positive direction.

I had a few resolutions...not that I keep them. Ever. But they did include obtaining the "What are you trying to prove?" achievement in the original L4D. Merely a week after the New Year and I got that cat in thebag. I would say 2011 is definitely off to at least an...interesting...start.
So...First post of 2011. A lot has changed and yet nothing has changed.


THE TRAILER FOR MASS EFFECT 3. THIS LOOKS AMAZING. LOOK AT ALL OF THOSE REAPERS. I NEED IT TO BE HOLIDAY SEASON 2011 RIGHT FUCKING NOW.


AND FOR THOSE OF YOU ON MY FRIENDS LIST WHO STILL HAVEN'T PLAYED MASS EFFECT 2....SHAME ON YOU. SHAME SHAME.
Current Mood:

geeky
Battlestar Galactica has pretty much been taking up all my time lately. I've made it up to the third season and I absolutely have to document this thought somewhere. Back in early season 2 (not season 2.5) I had a thought. If you haven't watched this series and plan to don't follow the cut. I have no idea if my theory is right, but on the off chance it is I'd hate to spoil you.
(
SO SAY WE ALL
Collapse
)
I guess I'll find out whether my hunch is right soon enough.
I am alive! Busy, but alive!
Current Mood:

tired

Life has been hectic and stressful since my return from D*C. Post con blues has been in full swing. Fortunetly I've had season 3 and 4 of Eureka to keep me busy! I'm really happy I went to the Eureka panel...even though they spoiled me a little, they really made me notice a lot of things I wouldn't. And Deputy Lupo is fucking awesome. Not to mention Wil Wheaton as a Dr. Douchebag type. YESSSSS. If you don't watch this show, you should. I HAVE WATCHED 6 EPISODES SINCE I GOT HOME FROM WORK.

SuPER SeKRIT TRAHCIES PROJECT is going well so far. So excited to install this piece. LOOK FOR IT IN OCTOBER

In other news: My body hates me. First the knee ligament sprain, then con crud that lasted NEARLY TWO WEEKS and now some horrible tooth problem. The dentist thought I cracked number 30 on my right bottom side. I finally got in to the endodontist today (loooong story but my wait time went from 11 days to 1 ) and he decided I had in fact not cracked my tooth and didn't think I would need a root canal. Right now he's going with the wait and see method....which I take to mean "I have no idea what's wrong, let's just see if it heals itself." But thats okay. Maybe it is just a gum irritation like he said...saves me from having to suffer through a root canal.

I wish work would slow down. I'm beginning to hate that place. There are way too many pressures and stresses for the amount of money I'm paid. I know its a non-profit so no one makes what they are worth but COME ON. Its ridiculous and theres no way I can move out on this salary. It's just not possibe.

HOORAY BIG BANG THEORY AND SUPERNATURAL THIS WEEK!

I had to repost this comic from xkcd.com. Its perfect....I want MY six months back.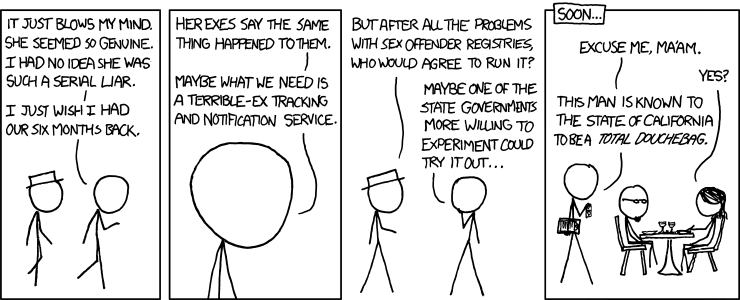 Current Mood:

stressed

Current Music:

Eureka - Season 4 - Episode 6
I HAVE SO MUCH TO DO BEFORE D*C NEXT WEEK.....I AM TOTALLY FREAKING OUT.


I keep having dreams where I miss my flight. Last night I missed it and called
tenel_ka . They were standing in line getting badges and I cursed myself for not faxing her my drivers license and note stating it was okay for her to pick up my badge beforehand.

BLAGH. On the brightside, I think I might have figured out how to attach the feathers to the back of my Nightsister costume. SO AT LEAST THERES THAT.
Last Friday I walked down the long corridor of City Hall toward the exit, canned soda in hand. City Hall is literally right behind the theatre I work in and the only place around to buy something to drink. I smiled the receptionist and locked eyes with a guy talking on a cell phone by the door. Before I even knew what was going on, the world tipped over and I was sitting on the hard tile floor of City Hall in some sort of unnatural splits position. My coke, however, never hit the ground. It was preserved in perfect condition, but my right leg and knee were another story.
Almost five days later my upper leg pain has decreased--it was pretty awful Saturday and a little swollen--but my right knee is not doing so good. There is slight bruising on the outer edge and swollen with fluid. It's not painful enough to be broken or anything like that...but I'm thinking I might have hyperextended a muscle or something. I'm hoping I didn't do something to a ligament, but dammit,
Jim,
it hurts when I straighten it all the way out or put my full weight on it.
GO ME!
In other news, D*C IS WAY TOO SOON AND I HAVE SO MUCH T
O DO! FREAKING OUT ABOUT THIS FOR SURE.
I watched Alien for the first time over the weekend. I loved it! I somehow managed not to know that the creature's first real appearance is busting through that guy's stomach. I love that fact that while filming the cast didn't know what was going to happen in that scene. Ridley Scott didn't tell them and captured their genuine surprise and horror on film. Brilliant!
Also watched The Runaways. Decent film. It was nice to see the story pre-Joan Jet and the Blackhearts. And it amazes me they were so huge (like Beatles huge) in Japan! Pretty good music, too.
OKAY. Back to my splicer mask. D*C in 18 days! THAT MEANS 18 DAYS UNTIL I SEE SEAN MAHER. YOU KNOW THIS GUY (the doctor on Firefly):
...I think I have a thing for doctors, Jim.